Service Center
Open Today! Service: 7am-6pm | Call us at: (309) 243-7000
Why Service With US?
At Mercedes-Benz of Peoria, our highly qualified technicians are here to provide exceptional service in a timely manner. From oil changes to transmission replacements, we are dedicated to maintaining top tier customer service, for both new and pre-owned car buyers! Allow our staff to demonstrate our commitment to excellence. Once you've browsed our auto repair offers online, visit our experienced technicians at our state-of-the-art service department and save on quality Mercedes-Benz auto service today!
Genuine Mercedes-Benz Parts
At Mercedes-Benz of Peoria, our task is to deliver the best: the highest quality service in the industry, from the information we provide to the personalized care you receive at our dealerships. And with Premier Express, we now offer on-the-spot maintenance service in about an hour or less, no appointment necessary.
Certified Mercedes-Benz Technicians
At Mercedes-Benz of Peoria, our Certified Mercedes-Benz Technicians are trained to identify and resolve any brake component concerns to the manufacturer specifications of your model. If you are experiencing any of the common warning signs of brake trouble, contact our Service Department at (309) 243-7000 or schedule a service appointment online today!
Customer Service/Dealership Amenities
With Genuine Mercedes-Benz Parts, the quality craftsmanship goes into our parts the same way in which goes into our vehicles. Genuine Mercedes-Benz parts are engineered specifically for your vehicle to maximize longevity, safety and performance. Our Certified Technicians have a distinct advantage when it comes to thorough inspection and accurate assessment of a Mercedes-Benz. By only working on vehicles like yours, they have a better understanding of just what it takes to keep it running at peak performance. All of our efforts when it comes to service are done with one thing in mind: to give you greater confidence and peace of mind behind the wheel. It's what you deserve as a Mercedes-Benz owner, and what you should expect when you put your trust in us.
Amenities:
Knowledgeable Service Advisors
Luxurious Customer Lounge with Complimentary Wi-fi
Snacks and Refreshments
Factory-Trained Technicians
Mercedes-Benz Genuine Parts
Your privacy is important to us.
Mercedes-Benz of Peoria takes your privacy seriously and does not rent or sell your personal information to third parties without your consent. Read our privacy policy.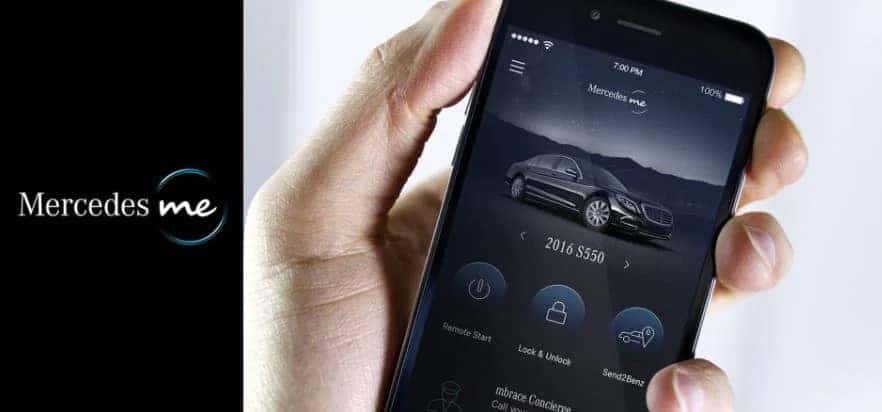 Our team at Mercedes-Benz of Peoria, wants our customers to know about the many advantages of using the Mercedes me app. The Mercedes me app is the best resource for Mercedes-Benz owners and your gateway to everything you could ever ask for when it comes to owning one of these vehicles. You will experience complete peace of mind when using this app, from knowing exactly when your Mercedes-Benz is due for a maintenance appointment to finding out the answer to any question you may have about your vehicle right on your smart device. Here at Mercedes-Benz of Peoria, we are excited about the Mercedes me app because it can provide supreme convenience for our customers. Using the Mercedes me app allows you to:
Browse various manuals, how-to-videos or even connect with a Product Concierge to learn all about the various workings of your Mercedes-Benz
Schedule service appointments at Mercedes-Benz of Peoria, so that our factory-trained technicians can keep your vehicle in its best shape. You even can reach out to the nearest Mercedes-Benz Collision Center if you happen to get into an accident.
Connect to your Mercedes-Benz via Google Home and Amazon Alexa
Remotely lock, unlock or start your Mercedes-Benz, along with tracking your vehicle
Have a direct connection to Mercedes-Benz Financial Services, so that you always stay current with your automotive finances.
Thanks to the Mercedes me app, luxury and efficiency are available right at your fingertips. Be sure to contact our team at Mercedes-Benz of Peoria, for more information and download the app today!
Mercedes-Benz Express Service

Regular car care is one of those things that's easy to put off. Each day, you have the best intentions of scheduling an appointment, but then life happens and it gets overlooked. Fortunately, Mercedes-Benz owners have another option that allows them to give their cars the regular maintenance it needs on their schedule. Best yet, this express service will take an hour or less. Of course, we're talking about Mercedes-Benz Express Service through Mercedes-Benz of Peoria. With a wide variety of services available, including tire rotations, and Mercedes-Benz A Service, you can take care of many of your regular car care needs by coming into Mercedes-Benz of Peoria on a schedule that works for you. While the job gets done quickly in the Mercedes-Benz of Peoria Express Service center, there is no sacrifice in quality or accuracy. Our Express Service technicians are specifically trained on the services available in the Express Service center, meaning they are truly experts who are providing the best service available.
What services are available through Express?
While not all services are offered through the Express center, many of the most frequently required maintenance tasks can be taken care of with very short notice in less than an hour. See a list of the available services below and feel free to contact us if you aren't sure whether it's available in our Express Service Center.
Mercedes-Benz Service A*
Synthetic Motor Oil Replacement
Oil Filter Replacement
All Fluid Level Checks & Corrections Are Dependent On Factory-Recommended Service Intervals For Your Vehicle's Year & Model
Tire Inflation Check & Correction
Brake Component Inspection
Reset Maintenance Counter
Tire rotation
Air filter replacement
Exterior bulb replacement
Replace cabin filter
Battery service & replacement
Complimentary battery test
Complimentary fluid level inspection and replenishment
Complimentary tire pressure check and adjustment
*Price advertised for Service A/Service B includes all factory-required components. Please refer to your maintenance booklet for the complete list of factory-required services and details on the specific intervals for your vehicle's year and model.