2023 Mercedes-Benz EQS SUV
In Peoria, Illinois at Mercedes-Benz of Peoria
Experience the future with awe, comfort, and a novel viewpoint that is refreshing.
The eco-conscious family will love this electric SUV's outstanding features and cutting-edge technology. It stands out from other EVs on the market not just because of its impressive driving range but also because it upholds Mercedes' renowned values.
View Inventory
2023 Mercedes-Benz EQS SUV Features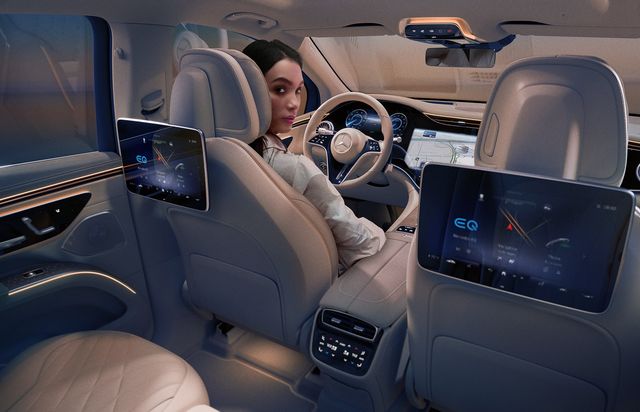 Give your imagination room to soar as you consider all possibilities.
No matter what the road ahead brings, enjoy a comfortable ride! Up to seven people may travel comfortably in the unique cabin interior, while smooth digital improvements keep you linked to the outside world.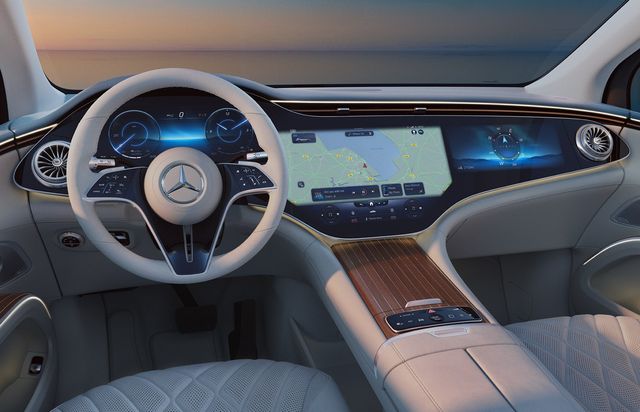 Access rich depths of knowledge with intelligence that brings it to the surface
Drivers of the EQS 580 may experience a 56-inch span of cutting-edge capabilities thanks to the MBUX Hyperscreen. With the help of AI, "Zero layer" technology creates a seamless driving experience without the need for many screens or controls—features only pop up when you need them! In the meanwhile, the EQS 450's two 12" super HD screens make it simple to access your digital needs.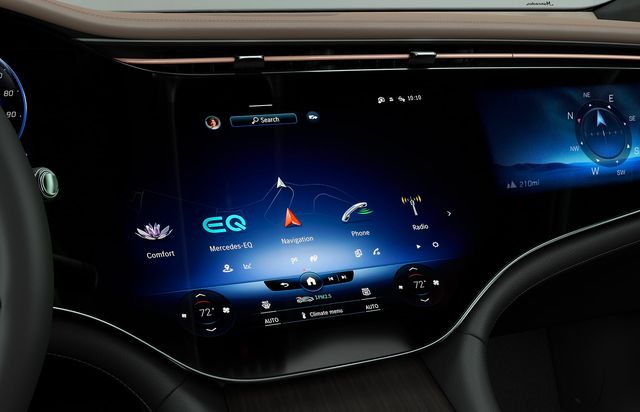 Efficient and Intelligent solution for the shortest distance between any two points
No matter where they are going, EV drivers can get there quickly and sustainably with MB Navigation with Electric Intelligence. Enjoy straightforward navigation with a Head-Up Display for clear directions throughout your journey that speed up charging without reducing range!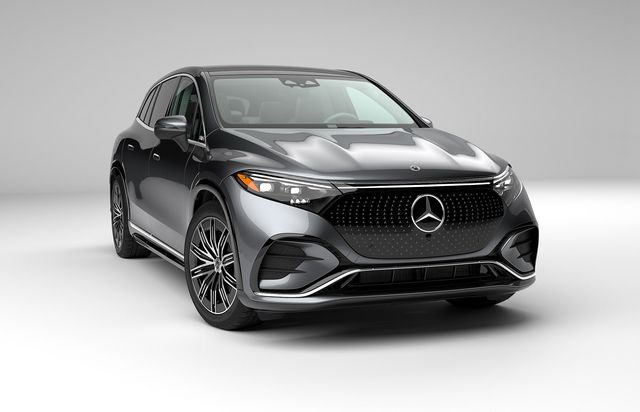 Raise the bar for driver assistance, now a standard feature
This epitome of luxury melds futuristic technology with traditional comfort, presenting an all-embracing driving experience that is truly unparalleled. Slide into its plush leather seating, bask in the ambient lighting, and soak in the panoramic views offered by the expansive sunroof. The EQS offers an enchantingly serene cabin environment, thanks to its exceptional sound insulation. And, let's not forget the high-definition, intuitive infotainment system that puts a world of entertainment and information at your fingertips.
2023 Mercedes-Benz EQS SUV Design & Luxury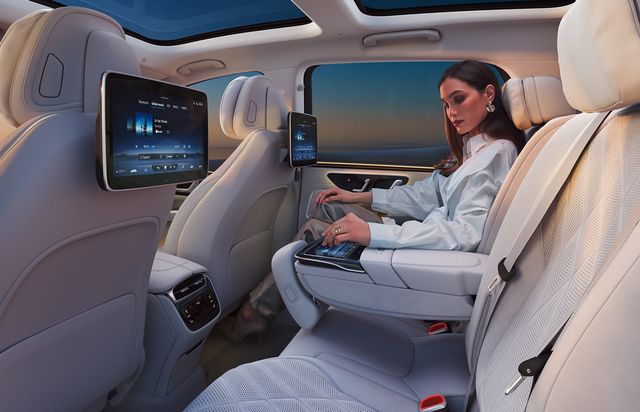 Elevate your luxury experience to new heights, with even purer refinement
The 2023 Mercedes-Benz EQS comes equipped with a remarkable driver-assistance package, setting new standards in automotive safety and convenience. This innovative package includes state-of-the-art features such as adaptive cruise control, which automatically adjusts the car's speed to maintain a safe distance from the vehicle ahead, enhancing comfort on long drives. The automatic emergency braking system adds another layer of safety by detecting potential collisions and applying the brakes to prevent them.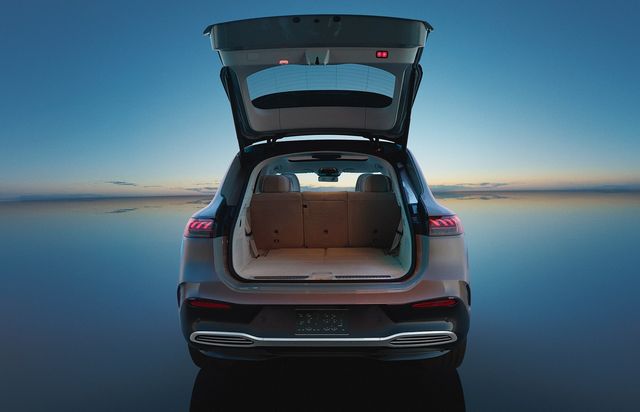 Experience spacious comfort in all three rows, with even more legroom
Take it easy when traveling first class! Features second-row power seating with wireless charging and a retractable tablet armrest, as well as heated and ventilated front seats with an integrated massage feature. Over 70 cu ft of cargo space is also available when all back rows, including an optional third seat, are folded down. Enjoy yourself on your next trip!
Move towards a brighter future with enlightened lighting technology
Dynamic LED lighting both inside and out will help you shine more brightly at night. Full-width running lamps display a feeling of individuality from every angle, while DL headlamps vividly illuminate routes in front of the vehicle. Passengers are provided subtle clues about their charge state during their journey into the depths of the night thanks to the dynamic colorful edge that surrounds them.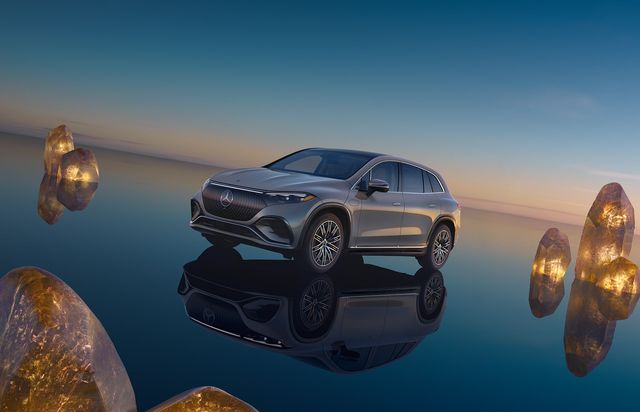 Make a statement with looks that earn admiration and likes
2023 Mercedes-Benz EQS SUV wheels can extend your range. Available in 20 or 21-inch widths and with a range of styles, including AMG® alternatives for the ultimate appearance when upgraded with an AMG Line aesthetic package, these wheels instantly add elegance to any vehicle.
2023 Mercedes-Benz EQS SUV Performance & Charging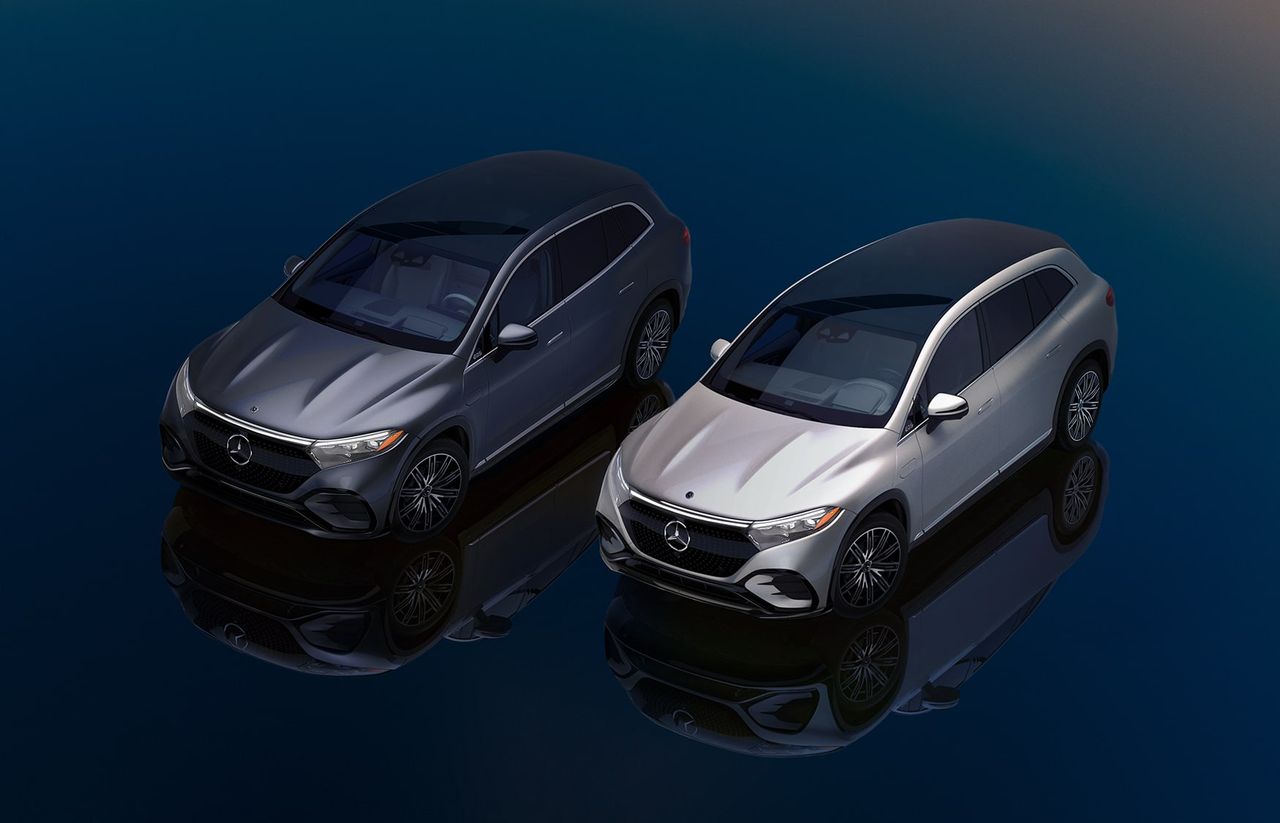 The power to advance
The EQS 450 and 580 4MATIC will take you on an exciting trip. With 355 horsepower and 536 horsepower, respectively, both motors produce incredible torque that allows the vehicle to accelerate from 0 to 60 mph in either 6.5 or 4.5 seconds when using twin motors. This makes them ideal for any road trip you have planned.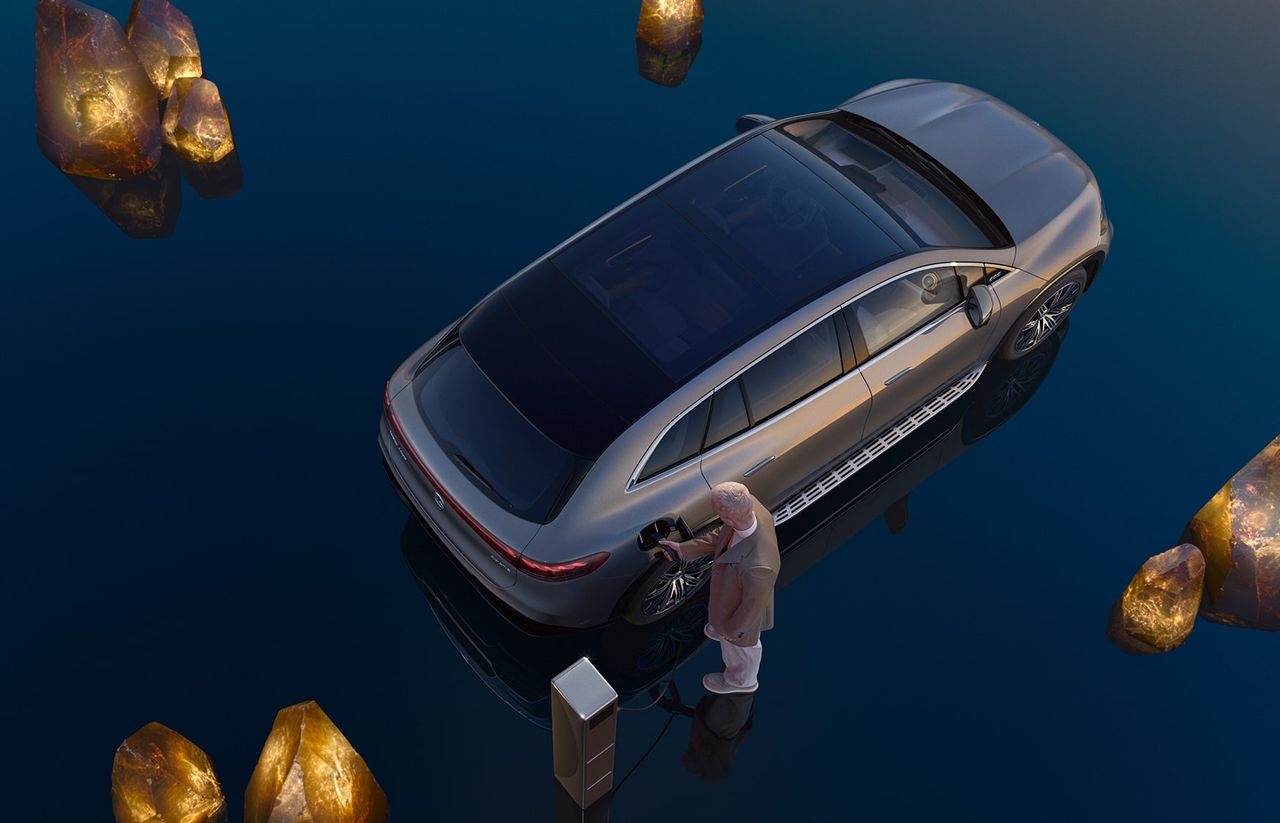 Electric made easy
With this cutting-edge electric motoring option, you can go up to 305 kilometers on a single charge and enjoy driving like never before. You can be confident that your trip will be fueled by green energy with over 60,000 public charging stations around the country and cutting-edge navigation technology, making it easier than ever!
Charge forward, at no charge
With its innovative charging leadership, the EQS raises the standard for all EVs. Mercedes me Charge offers a one-stop shop for searching and paying for chargers on US networks to make life easier. Additionally, when you purchase a new EQS, you will receive two years of free 30-minute charges at DC fast chargers operated by Electrify America!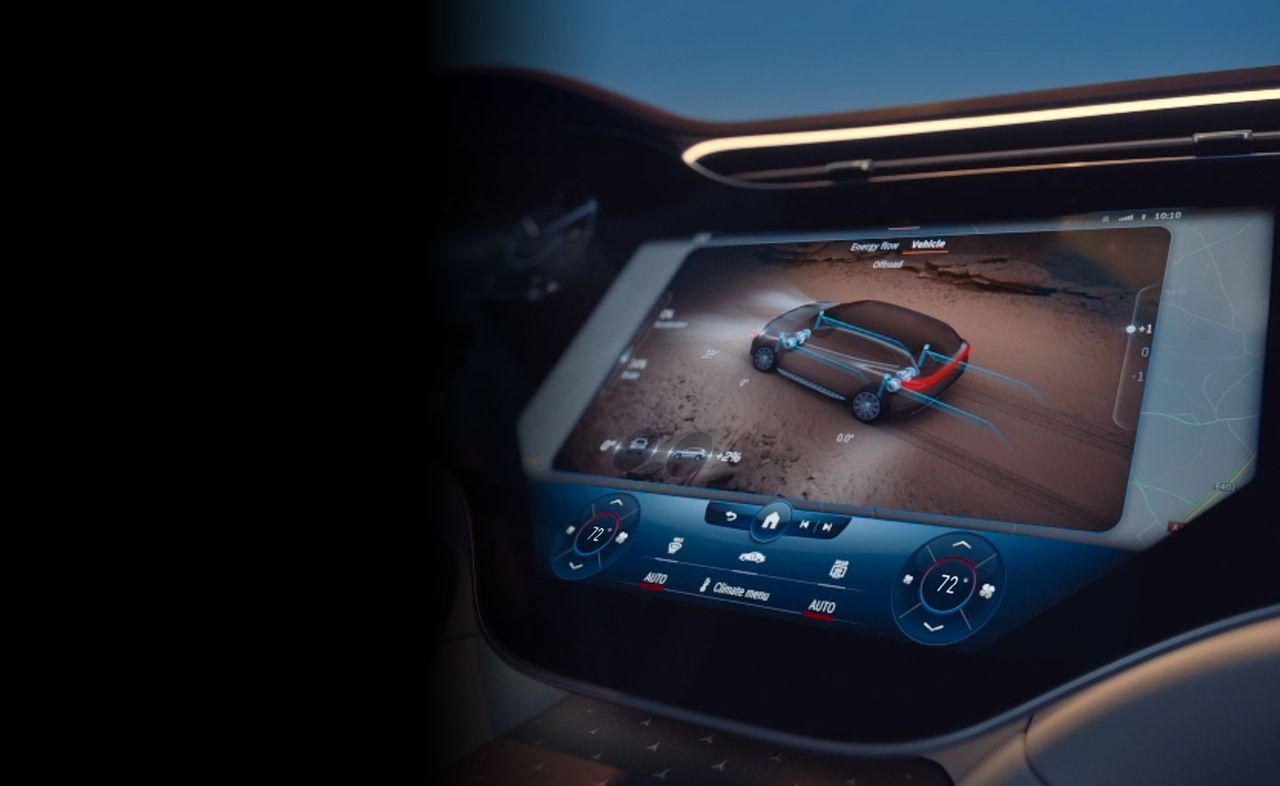 The confidence to roam
With an OFFROAD option for off-road adventure and a Carwash setting for when your journey is over, EQS advances the luxury SUV tradition. It is possible to fine-tune the powertrain for the best performance on any terrain, and helpful visual displays make driving challenging routes even simpler!
A luxury all-electric vehicle with the greatest level of performance and safety, the 2023 Mercedes-Benz EQS SUV blends cutting-edge technology. Drivers will experience unmatched comfort, convenience, and control thanks to its design.
Buy The New 2023 Mercedes-Benz EQS SUV In Peoria, Illinois at Mercedes-Benz of Peoria
The 2023 Mercedes-Benz EQS SUV from Mercedes-Benz of Peoria is the perfect choice if you're searching for a car that combines style, efficiency, and elegance. Our experts are available to address any inquiries you may have regarding the cost of the 2023 Mercedes-Benz EQS SUV, financing options, range, performance, and much more as Peoria, Illinois' premier Mercedes-Benz dealership. Visit us right now to learn why the brand-new 2023 Mercedes-Benz EQS SUV is the best alternative available. To learn more, contact us right now or stop by our Mercedes-Benz dealership.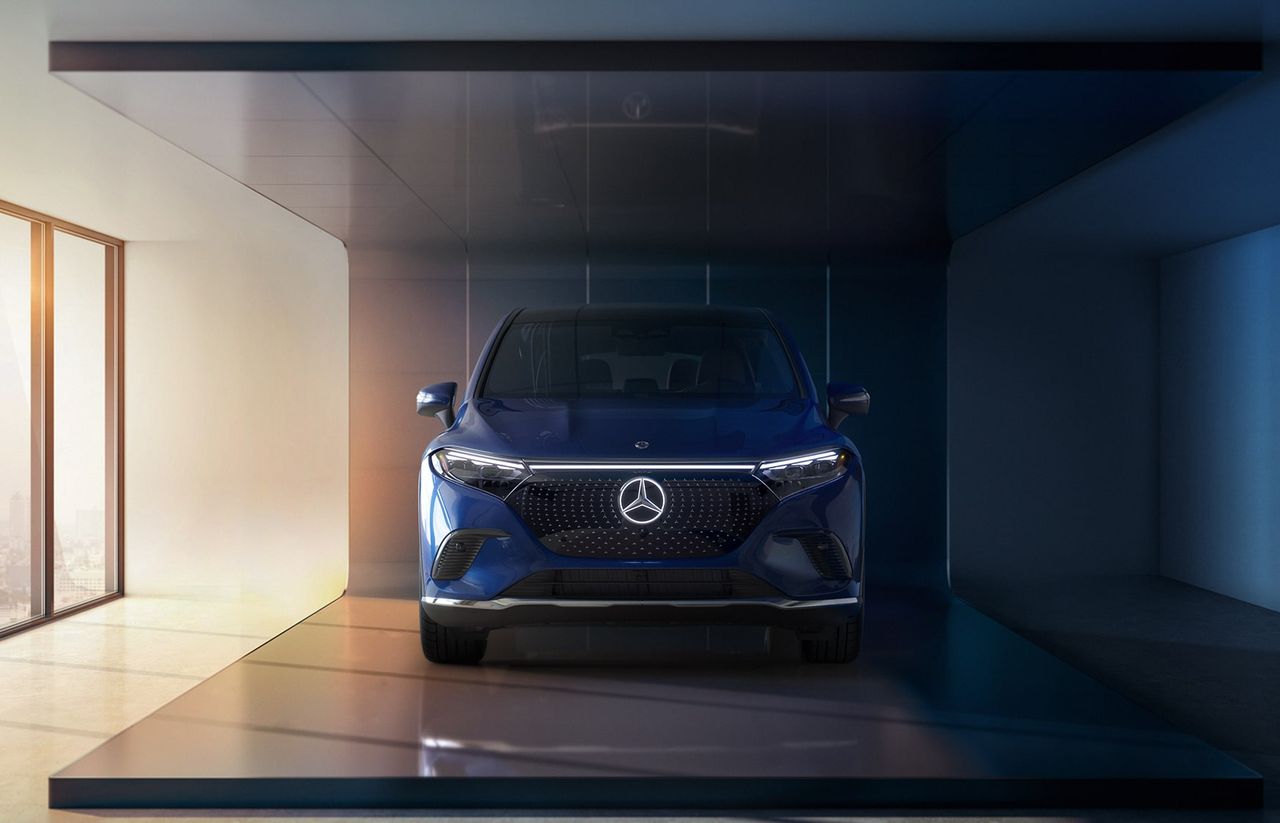 2023 Mercedes-Benz EQS SUV Q&A
What type of powertrain does the 2023 Mercedes-Benz EQS SUV have?

The strong motors in the 2023 Mercedes-Benz EQS 450 and 580 4MATIC produce 355 horsepower and 536 horsepower, respectively.
How long does it take to charge the 2023 Mercedes-Benz EQS SUV?

How long it takes to recharge depends on the charger type you use. The 2023 Mercedes-Benz EQS SUV will require about 8 hours to fully recharge when using a Level 2 charger. You may use a DC fast charger for quicker charging; it will take the 2023 Mercedes-Benz EQS SUV roughly 20 minutes to charge to 80%.
What type of advanced driver assistance systems does the 2023 Mercedes-Benz EQS SUV offer?

A comprehensive range of security and driving aids, including adaptive cruise control, lane-keeping assistance, blind spot monitoring, and a 360-degree video system, are included in the 2023 Mercedes-Benz EQS SUV. Additionally, it has self-parking and automatic parking assistance functions.
What type of range does the 2023 Mercedes-Benz EQS SUV possess?

The Mercedes-Benz EQS 2023 model has an estimated range of up to 305 miles.
What type of interior features does the 2023 Mercedes-Benz EQS SUV offer?

12.3-inch touchscreen infotainment system, heated and ventilated seats, a panoramic sunroof, and other luxuries are all standard on the 2023 Mercedes-Benz EQS SUV. Along with voice control features, it also supports wireless Apple CarPlay® and Android Auto™.
Where can I buy the new 2023 Mercedes-Benz EQS SUV in Peoria, Illinois?

Mercedes-Benz of Peoria is where you can purchase the new 2023 Mercedes-Benz EQS SUV. For additional details on used cars and new Mercedes-Benz models in Peoria Illinois, give us a call right now.